I saw things I'd never noticed before, which is, after all, the point.
~ Toronto walker on Jane's Walk, 2010
On December 23, 2009, I went on a walk of my neighbourhood in search of all the houses with bad feng shui. Being a somewhat systematic person, I first determined the boundaries of the area I was going to explore. It seemed natural at the time to use my neighbourhood in Toronto as the site for the bad feng shui walk because it was while walking through this neighbourhood, somewhere near Grace Street and Mansfield Avenue, that I realized how every time I walk on a street that t-sections into another street, I think to myself: "this house has bad feng shui."
Feng shui, the ancient Chinese practice of siting a building in a harmonious relationship with its environment and the arrangement of physical elements in order to cultivate good energy, did not factor significantly into my life growing up. My Taiwanese parents did not teach me much more about the practice than this one characteristic of bad feng shui, yet this simple lesson has had an enduring effect on my experience of the city. Using one characteristic of bad feng shui as a lens to view the neighbourhood gave focus to my walk. It filtered my field of exploration into a series of specific sites, with my route between each instance of bad feng shui as a way to experientially connect them.
I started my walk midday with a customized map and digital camera. Using a Canadian Cartographics Corporation (CCC) map of the city, I found the location of all the buildings with bad feng shui, marking each instance where one street t-sectioned another with a red dot and deciding that only the houses within my set boundaries of Ossington Avenue, College street, Bathurst Street and Queen Street West would be included. Then I set out to discover the reality of the situation.
The following is an abbreviated narrative that pairs one observation or thought with a photograph of each of the houses with bad feng shui, from A to Z.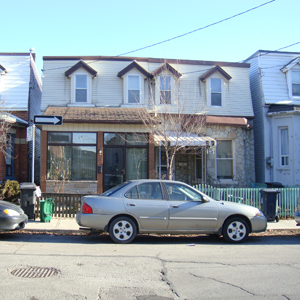 17 Givins Street (A) has a conspicuously large enclosed porch that does not function like a typical porch which is open-air, yet sheltered from the elements.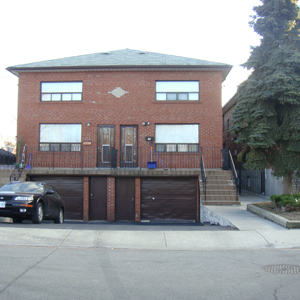 23 Bruce Street (B) appears to have been built in the 1960s or thereabouts. It's difficult to guess its exact date, but it's more than glaringly clear that it is not Victorian in style, nor it is early 20th century or post-war housing.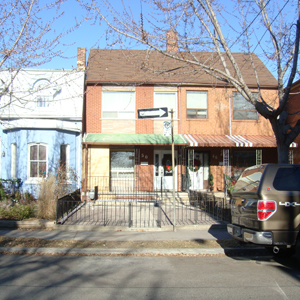 50 Argyle Street (C) is also marked by a one-way street sign.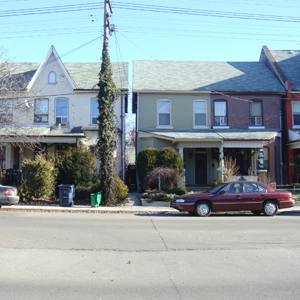 The next house with bad feng shui could arguably be 199 or 201 Shaw Street (D). It feels like the bad feng shui actually slips between them, through the narrow alleyway between them.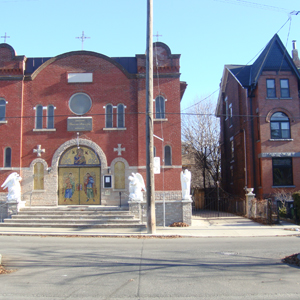 The engraved stone sign on 257 Shaw Street (E) reads:
Catholic Church
Nativity of the Mother of God
Slovak-Byzantine Rite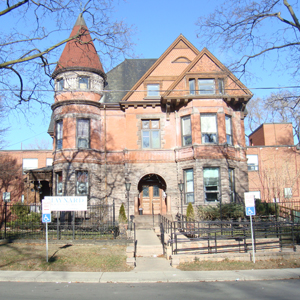 The long walkway to 28 Halton Street (F) is bifurcated by a barrier-free ramp that perhaps also serves to divert bad feng shui.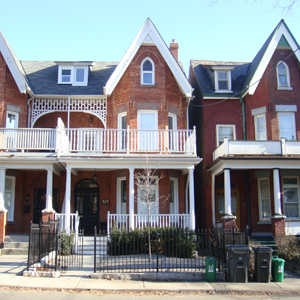 Eschewing my own route, I take an unmarked path to Dundas Street and connect back to Shaw Street, travelling north toward Harrison Street, where Harrison meets Crawford at house number 307 (G).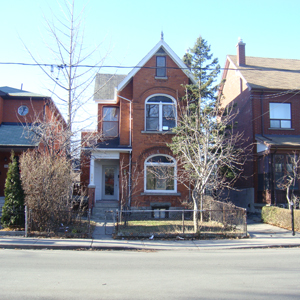 Walking on Cinder Street from 384 Crawford Street (H), I notice a pair of contemporary houses built in an almost Eamesian style with large rectilinear windows divided asymmetrically by intermediate mullions, flat roofs, industrial materials and a detached studio.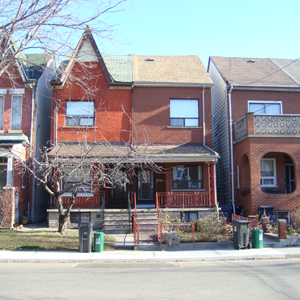 The next house with bad feng shui is a pair of houses, 149 and 151 Montrose Avenue (I).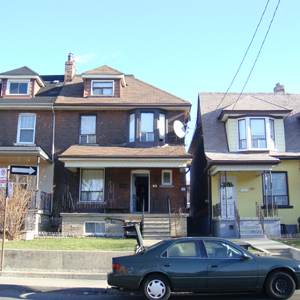 The intersection of Sully Crescent and Montrose Avenue widens more than the other intersections I've encountered so far on the walk. This makes the act of deciding which house has bad feng shui more difficult. Standing in the middle of Sulley, I am more directly aligned with the path to 183 Montrose Avenue (J).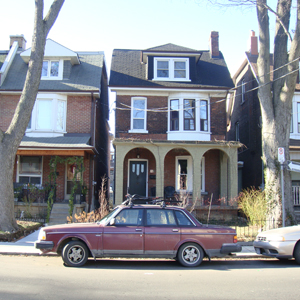 The route to 120 Grace Street (K) takes us onto College Street. The sidewalk of this stretch of College expands to accommodate Toronto's beloved summer patios. Unfortunately, fences demarcate the semi-private space of the restaurant patio from the public space it borders.
I approach an area with a high concentration of houses with bad feng shui, which is also a reflection of street density and orientation. Separated by less than a dozen houses between them, Gore Street meets Clinton Street at 31 Clinton (L), Henderson t-sections into Manning Avenue at 329 Manning (M), Mansfield hits Manning at 303 Manning (N), Claremont Street ends at 22 Mansfield (O), Clinton truncates at 13 Mansfield (P), Bellwoods Avenue runs into 58 and 60 Mansfield (Q), and Mansfield terminates at 90 Grace Street (R).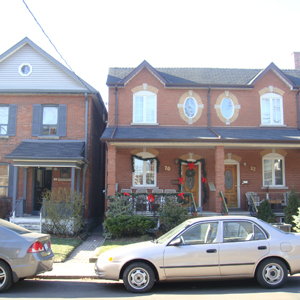 Plymouth Avenue is really more of a laneway than street, despite its officious name. One end of Plymouth spills into Grace Street at 20 Grace (S), a polychrome semi-detached house.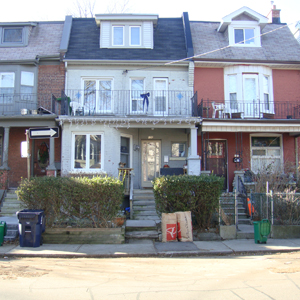 120 ½ Bellwoods Avenue (T) is an odd house, wedged between 120 and 122 Bellwoods. The houses on either side are mirror images of each other, but 120 ½ Bellwoods is neither a copy of one of them nor a symmetrical house itself.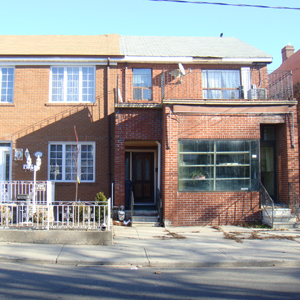 Bellwoods Place connects this house with the next house, 141 Manning Avenue (U), on my journey. It is a doubly wide laneway with surface-applied speed bumps. There's something nice about the scale of this laneway and its lack of sidewalks. There are two industrial-type buildings that face this lane, amidst all the laneway garages, forming an interesting juxtaposition between one multi-unit three-storey brick building on the north side of the lane, and the residential garden to the south.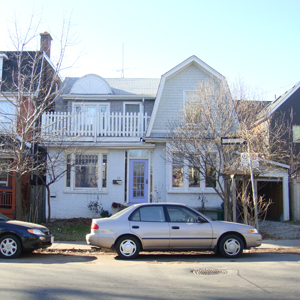 44 Bellwoods Avenue (V) resembles a farmhouse, and feels extraordinary and likewise foreign because of it.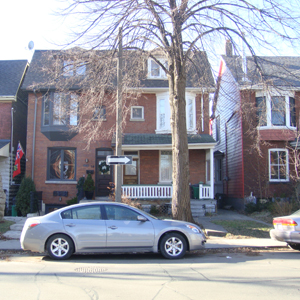 At 14 and 16 Bellwoods Avenue (W), there is a precast concrete utility pole directly ahead. If you stand in the middle of Robinson Street, the pole lands precisely in the middle of this pair of semi-detached houses. The one-way street sign here seems less like an indicator for bad feng shui and more like a cue for the bad feng shui to direct itself elsewhere.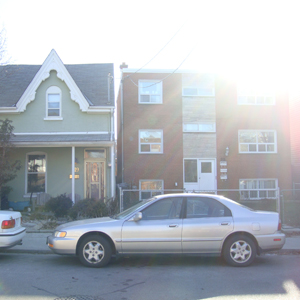 The end of St. Mathias Place lands between 19 and 23 Crocker (X), a cottage-style row house and a three storey apartment building.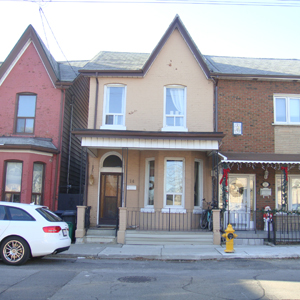 One small block north of Queen Street is 14 Palmerston Avenue (Y), where Wolseley Streets dead ends at Palmerston.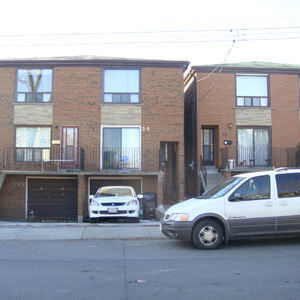 20 Markham (Z) resembles the newer houses on Wolseley: multi-tone brown brick, integrated garages, shallow concrete terraces, large rectilinear windows joined by a small patch of stone. Connected by feng shui, these houses demonstrate how one similarity in fortune and siting gives way to a diversity of forms and architectures. Feng shui uncovers the moments of distinction that often go unacknowledged, and the city fabric in between.